We've already been plastering this all over the internet, and everyone knows by now, but I just wanted to make it official here; Congratulations to Team USA 2011, Ashe and Ali of Fox Gloves Cosplay! If they had an LJ (or, I knew it), I would post it here. Finals are in a month, so it won't be long before we get to see our girls on that familiar stage, in Nagoya! I know I speak for Rynn as well when I say Congratulations, job well done, and we wish the girls the best on their life-changing trip!
To those of you that don't know, The WCS US Preliminaries will take place on Sunday at 4:30PM at
AM2
. Krystal and I are disappointed that we can't be there this weekend to cheer on all of the competitors but we will be stalking the internet awaiting news of the winners!
To everyone competing: Sweat the small stuff and do your very best! Try not to kill your partner because you'll need them in Japan. Don't break character. When you get home, do yourself a favor and stay off of 4chan. You should stay off of 4chan ANYWAY but especially if you're a WCS hopeful, as they will have nothing nice to say and you are better than their bullshit. Win or lose, buy yourself a milkshake - you will probably forget to eat anyway and will deserve a treat for your hard work.
I recommend strawberry.
I think I can speak for Krystal when I say that it's a very nostalgic, surreal feeling to watch the new team being chosen. I wish very much that I could do it all again but I know I've had my moment and I can never replicate my experience, even if I tried. That being said, I hope that the new team has an even better experience...and use their LiveJournals often so I can read about it. 8D

GOOD LUCK EVERYONE!

Hi everyone,
I'm happy to announce that the US WCS 2011 preliminary host convention is AM2!
For details please visit http://am2con.org.
Posted via LiveJournal app for iPhone.


For anyone hoping to compete in the WCS US Preliminaries in 2011: please follow the US WCS page on Facebook in the next few days to see the official announcement regarding the host con for 2011. I know many people are looking forward to it! I will post the announcement here ASAP as well.
Hi everyone,
Current Mood:

cheerful
Hope you're all doing well, especially my WCS friends! As I watch the 2011 teams being chosen, I find myself being half excited for the new teams and half depressed because I wish I could experience it again for myself. D:
Anyway, this post is about Anime Matsuri!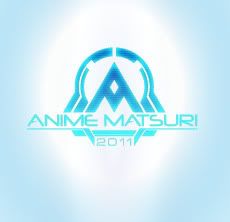 I am very excited to announce that my lovely partner
sumi
and I have been invited to be cosplay guests at Anime Matsuri in Houston, TX! The convention is March 18-20th and we will be hosting panels, helping out with judging and hopefully answering all of your questions about the World Cosplay Summit.
Feel free to visit the (very cool!) website for more information.
Bye for now!
Hi everyone,
Current Mood:

cheerful
To those of you thinking about trying out for WCS in 2011, you should note that some of the rules have been changed for the 2011 competition, most of them in regards to props:
-----
- The gross weight of all costumes and props used for the finals is 40kg (roughly 88 lbs) or less.
- All costumes and props must be brought by the participants on the flight. (Participants cannot send costumes or props by any other means.)
- Regarding props that are set up on the stage before the performance starts:
1. The size of each prop is within: length 6.8 ft, width 6.8 ft, depth 2.95 ft
2. The maximun number of props that are allowed is 3
- The equipment, props and video are not subject to performance evaluation by the judges at the WCS Championship. Judges will be looking at the performance and the costumes.
- The time limit is now 2:30 instead of 3 minutes.
- Lastly, the participants can use video they create on the background screens. It is not permitted to use trademarked material from anime, manga, videogames or otherwise.
------
I am happy to hear these changes because it will help to realign the competition to focus solely on the costumes/performance, which is what it's all about. Also, I think the video component is a really interesting idea, though a challenging one.
To see the rule changes in the future (including rules specifically related to the US prelims) you can follow the
WCS US Preliminaries Facebook page.
Hi everyone,
Current Mood:

contemplative
For those of you who aren't friends with me on LJ, I have written up a (massive) WCS report and posted it in 4 parts. Click on the images below to read each part.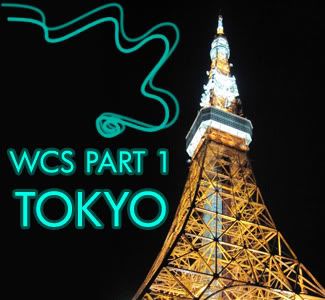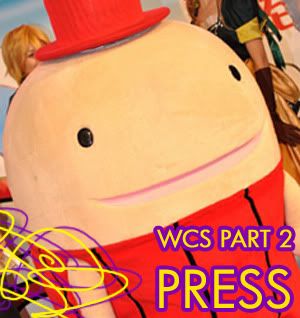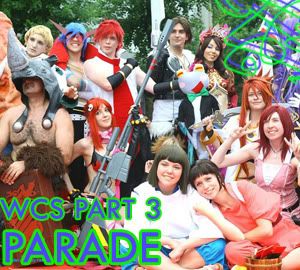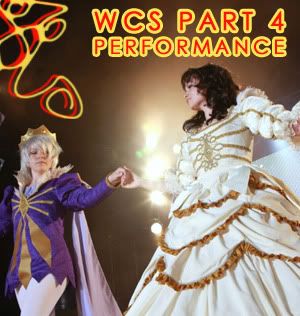 If anyone has several hours to kill, feel free to check it out.
Also, congratulations to the new
Australian
and
German
teams! (Especially Iris and Bell!)
Bye for now.
Hey everyone,


One last call for addresses! I am hoping to send out small thank yous to all of the donators sometime next week - if I don't hear back from you, I will just send it to the paypal address that was provided.

Comments are screened so feel free to leave your address in a comment.

Thanks!
Hey guys,
Current Mood:

calm


Please know that we haven't forgotten about you guys! We have a little something we want to send everyone, but we need to confirm that paypal gave us the right addresses. If you donated, will you please leave your address in a comment? All comments will be screened.

Thanks!

Rynn
To everyone who donated: